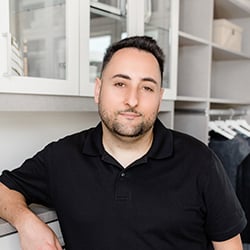 Albert Nazzaro
Design Consultant
I take pride in helping clients transform their spaces into something functional and beautiful. After listening and understanding what the client is trying to achieve, I enjoy coming up with creative solutions and ideas to give them the perfect space. Best Interior Designer York Region 2012, 2013, 2014, 2016, 2018, 2019 Featured on HGTV's Income Property Fluent in English and Italian
California Closets Reviews - Albert Nazzaro
Hi Albert, I just wanted to let you know that our closet is now complete. It looks great. Now I am going to fancy it up with a glam lighting fixture and the new black hangers that it deserves - lol!

I already love California Closets (CC)! I purchased from CC 30 years ago and was very happy with the quality of their products. My experience now with my design consultant, Albert, was thorough and very professional. I have already recommended CC!

I was fortunate enough to have Albert Nazzaro as my consultant. He was very accommodating, efficient, knowledgeable and an absolute pleasure to work with! He followed through the entire process from beginning to end!

Wonderful team! Great designers who help make the best space for you!

Easy design step, good design advice, attention to detail during the installation, tidy/neat installation, great looking final product, reasonable price. What more can one ask for?