Learn more about our TouchLessService™.
Read More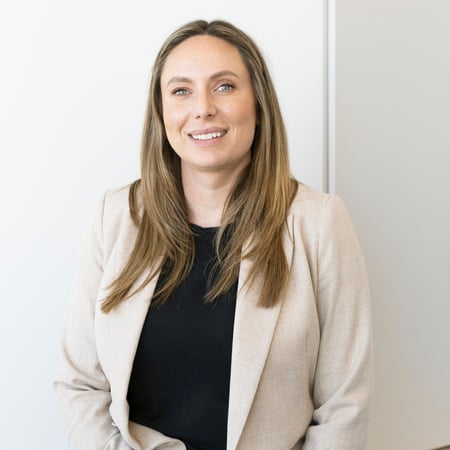 Carissah Klaassen
Design Consultant
I was born and raised in Calgary and love to spend my time in the mountains or supporting local community markets. I have always been inspired by the outdoors, and I love that California Closets aesthetic really reflects the colors you find in nature. I have a strong passion for travel, and enjoy experiencing new cultures whenever I can. A few of my favourite destinations are beach hopping in Thailand, visiting the Pyramids in Cairo and camping in the Serengeti. My passion for travel makes me comfortable meeting new people and quickly understanding their lives. I have an extensive background in the Interior Design industry. I received a Decorating Certificate at Mount Royal University and gained my knowledge in CAD from Southern Alberta Institute of Technology. I have over 10 years of experience in furniture, design, and staged over 100 show homes for well known builders. These experiences have carried over into my role as a Design Consultant here at California Closets. I can recognize spatial awareness and fully understand how to maximize its full potential. I love working with homeowners and builders alike to create high-end storage solutions for any space and style. Whether you have an idea in mind, or feeling lost, I am confident I can understand your needs, see your vision, and design a system that is beautiful, practical, and uniquely yours. I highly value good customer service and aim to create the best experience for you. I truly believe California Closets strives to be a top leader in our industry. I look forward to meeting you.
California Closets Reviews - Carissah Klaassen
Overall an amazing experience. Our consultant was amazing and always answered any questions we ever had in a very timely manner. I appreciate the quick appointment and extra finishes that were suggested. I would highly recommend using them for your custom builds and honestly, they are not very expensive. I found their pricing very competitive.

California Closets Calgary did a fantastic job redoing our walk-in closet and pantry. We are so happy with the results. The whole process from shopping, design and installation was professional and stress-free. I wish we would have done it sooner.

From the planning startup appointment, (which I booked from out of country), Carissah was exceptional, also punctual, well informed, Great ideas well organized and respected our budget. This is the best way to live in a small unit (865 sq ft) all cupboards, closets done. Workmanship the best, take pride in the finished product. Well worth it and your company simply AWESOME. This is my fourth time using California Closets and it is certainly the First thing on my list to have done if moving!!!

Awesome to work with Carissah. She's prompt and patience. Our project together turned out to be what I have envisioned. California closet, you're such an expert in built-ins!!

Great process from start to finish. Carissah took the time to understand our closet needs and put together a great design on the spot. Install was quick and well done. We love the closet!

The closet exceeded my expectations. It is absolutely beautiful and so functional - I am saving sooooo much time finding my clothes everyday which is a God-send. Carissah Klaassen was also very patient with me on the back and forths! I also appreciate that I was able to incorporate my own drawer handles to match the new closet with our entire home design-wise.