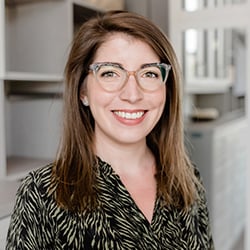 Christine Wood
Sales Lead
Christine has an extensive background in design. Originally a theatre major, Christine began her career specializing in theatre production. With a passion for entrepreneurship, Christine worked as a freelance designer for professional theatre companies across the GTA. Her interest in costuming and fashion led her to work in the Bridal industry. Having great experience designing for the stage, Christine then found herself designing custom furniture, and providing consultations for homeowners to transform their spaces to meet their needs and suit their style. At California Closets, Christine fuses function and aesthetic to build the perfect closet for you to enjoy every day. Christine takes pleasure in designing spaces that have a spot for everything. Whether transforming a small linen closet or a large dressing room, Christine will rework your space to fit your personal style and needs. When not designing, Christine likes to indulge in Tudor history, enjoy new plays, and investigate charming local restaurants with delicious food.
California Closets Reviews - Christine Wood
We want to thank Christine and the California Closets team for the amazing job they did on our closets. California Closets was able to take a small space and transform it to not only be functional but also visually beautiful. We are also grateful to Christine and the California Closets team for their efficiency, patience and professionalism. We will definitely refer California Closets to our friends and family.

A great experience from start to finish. Christine was great to work with - very professional, and always kept us informed. The design experience was fun, the installers arrived exactly when promised, and the final product looks fabulous!! We're thrilled....thanks to everyone!!

Right from the beginning the experience was fantastic. As soon as I expressed an interest in changing our closets someone responded almost immediately. Unlike other companies. I cannot say better things about Christine Wood. She was so accommodating and flexible, which helped us and our very demanding schedules. It really made me want to pursue the change. She gave me the confidence that we could do it with little interruptions in our busy lives. I would highly recommend California Closets to anyone I know who is considering changing their closets. Especially if they will be working with Christine!

Christine was extremely kind, personable, and professional. She was thorough and insanely efficient in addressing our design needs. She is a wonderful listener and we learned a lot from her ideas. Similarly, Mark installed our closets with the utmost care, professionalism, and expertise. Like Christine, Mark was very friendly and authentic. My wife and I couldn't be happier with the entire California Closets experience. We will gladly recommend your service to our family and friends. My wife and I recognize that you carry a quality product, but it's the people you employ that speaks volumes about your ideals. Many, many thanks.