Save up to 15% during our Friends & Family Event!
Learn More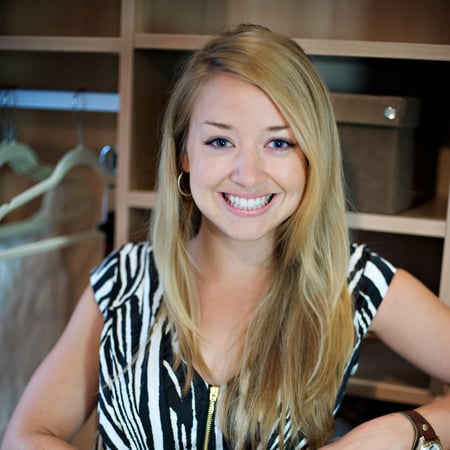 Emma Beaty
Design Consultant
I've been a designer with California Closets since 2012, bringing unmatched enthusiasm and creativity to the business. My educational background is heavily focussed on design and space planning. My time at UVIC, BCIT, and VCC have provided me with excellent portfolios in both graphic and interior design. I pride myself on being well-versed in the most current design trends, and I've had my designs selected for the Top Ten Designs of the year for California Closets' international design competition four years in a row, which is a record in the business. I love working with people and thoroughly enjoy bringing value to my client's homes through designing beautiful customer storage systems. I'm thrilled to have found the career of my dreams at California Closets.
Emma Beaty's Portfolio
Here's a collection of photos showing Emma's favourite projects to help you get inspired.
California Closets Reviews - Emma Beaty
From the outset, working with Emma was a pleasure. She is so professional and not only listened to my wants and desires but, unlike another company I contacted, took the time to rearrange my closet and measure that space needed by different types of clothes. She followed up with me after the order was placed and kept me informed on prospective installation dates. The installation crew, Darcy, Tom and Kyle were super professional. All three were here to load the product into my unit and once set up, Kyle attended to the installation and cleaned up better than I would have done! Kyle checked with me periodically to ensure it was as I had expected which was a good thing because I noticed a couple of shelves were not as I had expected so he was able to easily correct the placement. When all was completed, Darcy and Tom returned to assist Kyle with removing all materials, and they were able do so quickly and efficiently. Thank you to all involved!

Emma was excellent ¬- professional, competent, and provided great direction and ideas. The install guys were great as well - tidy, efficient, professional. They did a beautiful install.

Having designer Emma Beaty plan out our remaining closets was a bonus. She was instrumental in doing our first few closets, so it was only natural that she do the remaining ones. The installers, Ashley and Mike were great - so professional, clean, neat and tidy. Can't thank California Closets enough - only wish I had more for them to do.

We are very happy with the installation. Emma, the designer, provided valuable insight into how to organize the new closet space. Darcy and Puria, the installation team, were pleasant and very professional. They didn't hesitate to answer any questions while completing their job. Overall, a satisfying and clean-cut installation. Thank you!