Discover the new Ideas of Order Podcast with Jeremiah Brent!
Listen Now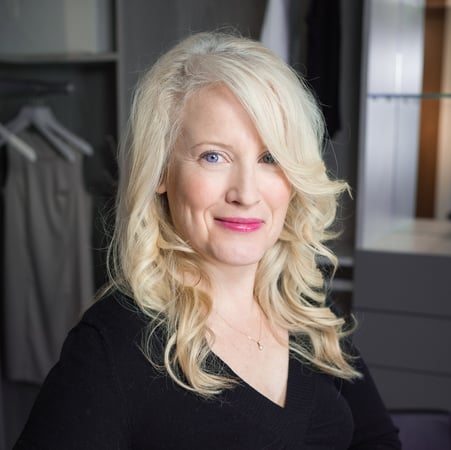 Heather Cameron
Design Consultant
When I was young, I always wanted to keep things tidy and enjoyed organizing spaces for my family. Growing up, I was inspired by Debbie Travis and Martha Stewart, and I knew I wanted to be an interior designer so I could share my love of design and organization with others. After graduating from BCIT's interior design program, I worked in a few different roles in the field of interior design. I spent several years working with furniture companies, both in sales and on the production side. I also ran my own interior design firm for a time before California Closets caught my eye. With years of experience in interior design and having a family of my own, I love being able to offer insight into what works best for clients, especially families organizing their spaces. My favourite part about working with clients is that it's different every time. I'm great a puzzle solving and space planning, so it's a joy to be able to solve the organization problems clients throw my way.
Heather Cameron's Portfolio
Here's a collection of photos showing Heather's favourite projects to help you get inspired.
California Closets Reviews - Heather Cameron
The initial Zoom meeting with my designer, Heather, was the beginning of a very collaborative relationship where we worked together to create a Murphy bed and office. I appreciated how Heather engaged me in the process and guided me along with fantastic suggestions. It was so exciting to see the plans come to life in 2D and 3D. When installation day arrived, I was so impressed with the meticulous installation done by Ashley and Vahid. The entire process has been seamless, and the final product looks absolutely amazing! I am so appreciative of the quality and finishing of both installations. I know I will enjoy them for many years to come and also that value has been added to my home. Well done! Thank you!

I have hired California closets multiple times, and they never disappoint! Heather is my design consultant, and she always comes up with designs that fit my budget and my space. My recent addition was an entertainment unit, and I love the finished product! Installer was professional, punctual, and courteous. I've had a positive experience every time I've used California Closets' services. Highly recommend. It's worth the value and quality!

Everything was great - Heather was amazing to deal with and spent a lot of time and effort on designing the perfect space for our specific needs. We really enjoyed working with her. And the installers were very professional and did a great job as well. All in all, an excellent experience, and we are very happy with the end result.

California Closets went above and beyond. Heather Cameron was the designer that I worked with. She was exceptional. I would highly recommend her work. The installers did a great job. I am very happy with the open shelves in my new sunroom. Two thumbs up!