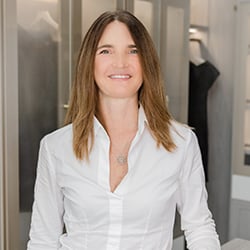 Ilze Viksninia
Senior Design Manager/Builder Trade Division
When someone is determined to organize their life, it is not uncommon to start with the things that surround them. My great passion is bringing organization, ease of use and access to things that you love, in a beautiful and organized environment. I help clients, who include new homeowners, existing homeowners, builders and designers to find the best solution for their storage spaces that these spaces would become peaceful, complete, inspiring and easy to use. I know that no single approach is the right one for every individual and I have been trained in a range of areas of study including Interior design, colour theory, composition, lighting, Ontario building code and various Cad based programs. My education background includes Design Bachelors degree from Ontario College of Art and Design and certification in Lighting and Ontario Building Code from George Brown College, Ont. I look forward to meeting you and designing that special space for you!
Ilze Viksninia's Portfolio
I'm committed to listening, collaborating, and working with you to design a custom solution that will optimize any space in your home. Here's a collection of some of my favourite projects to help you get inspired.