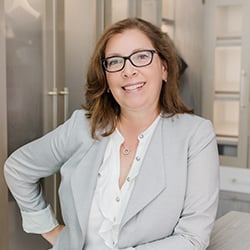 Jackie Chesney
Senior Design Consultant
I grew up in a home that was under construction continuously during my childhood, so the renovation bug is a natural thing for me! I have fun meeting new people from all walks of life as their needs and spaces are so very different which makes every moment an interesting one. I call this my FUN career. A few years ago I became a Professional Organizer and joined the Professional Organizers Association of Canada, and at the same time designed my own Wall unit and went to California Closets to have them bring it to life. Well after that I was hooked! Beautiful storage spaces where everything had a home – how gratifying and satisfying it was to look at, and know that it stored items that I needed. California Closets and I took a chance on each other, with my spatial sense, appreciation of the Closet CAD system and my love for organizing – it is a match made in heaven. I now design very functional and beautiful systems to help you organize your home! It will make your life easier so you can concentrate on the important things like family and friends. I urge you to call me today, if you have spaces in your home that are driving you crazy and are looking for options to make it function and look fantastic at the same time! Let's work together to make your life less hectic.
Jackie Chesney's Portfolio
I'm committed to listening, collaborating, and working with you to design a custom solution that will optimize any space in your home. Here's a collection of some of my favourite projects to help you get inspired.
California Closets Reviews - Jackie Chesney
The overall experience was excellent. The designer provided excellent examples of layouts for our office, with the final one being quite unique. We are extremely pleased with the final result and have received many compliments.

Excellent service, very patient with changes. Great design ideas. Have several areas in my house done by California closets, and love them all. They help to keep a busy family organized. Jackie is an absolute pleasure to work with!!!!!!

I was very happy with the advice and guidance I got during the selection process and with the final product and installation. I did not feel that I was oversold or pressured, it was a very easy process.

Very satisfied with the end product. (Love it!) The design consultant was great: designed a solution tailored to my needs. Will be using your services/product again!

Jackie was a great consultant and shared her ideas openly. The closets were installed on time and the installer was very good at this job without leaving a mess.

I am very happy with my new closet, the process and the service. Everyone I dealt with was friendly and efficient. The product quality is very good. I am happy with the service, the product and the installation.

Very positive, Jackie is extremely knowledgeable and great to work with. And installers did a great job.