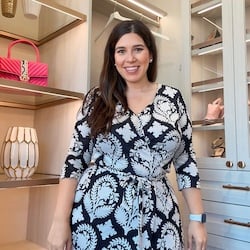 Julia Mickus
Sales Lead
The perfect use of space can literally change your life. With my background in Retail Design and a passion for organization, paired with my commitment with California Closets, I can help my clients become better versions of themselves, with more time to focus on what matters most. Design is something that I can talk about for hours. My responsibility is to simplify and improve your every daily life by creating a space that is tailor-made just for you. During our consultation we will spend time discussing all the ways your current space fails to meet your everyday needs, so together we can design a customized storage solution that fits your unique space, lifestyle and budget. Whether it's a simple Mudroom for your large family, a luxurious Master walk in, or a functional in-home Office, your space should be a natural extension of your home. Let's get started!
Julia Mickus's Portfolio
I'm committed to listening, collaborating, and working with you to design a custom solution that will optimize any space in your home. Here's a collection of some of my favourite projects to help you get inspired.
California Closets Reviews - Julia Mickus
The final result speaks for itself, or actually my wife speaks for it. She hasn't stopped raving about her new closets to the extent of taking pictures of them to show her friends. She "loves, loves, loves" her new closets and how they are more "pieces of art." I'm very happy I got them for her for Mother's Day; one of the best gifts I have given her.

Fantastic experience from the consultation, to communication with the office, right through to the installation. The finished product was far beyond our expectations. Not only will we contact California Closets to install closet systems in the remaining closets in our home, we will definitely refer California Closets to anyone looking for this service.

Amazing! Life changing! From the designer to the installers, they were all extremely professional and listened to all my concerns and made the spaces exactly what I wanted. Thank you so much!

Best service experience ever! When the excellent design experience by the designer, matched by the installers excellent installation, it is a winning combination. Both demonstrated such a personal approach and were so respectful of us and our home.

Adaptable, friendly, and efficient. Remarkable that they were able to complete all of the spaces in one day, and left our home extremely clean.

Exceptional service. Julia Mickus was knowledgeable and professional. She had our closets designed, ordered and installed promptly and was a pleasure to deal with.

Absolutely fantastic. The installer was very professional and considerate of your time and also your needs. The designer was spot on and also available at any point and time during the process.

Great! Sales agent Julia Mickus was very knowledgeable, helpful and made the process so easy. Her recommendations were spot on, we ended up with exactly what we needed and envisioned.

Great experience from the salesperson to the installer and my closet looks gorgeous! I also contacted another company through a warehouse club, and honestly, they were less than great. So glad we went with California Closets!!