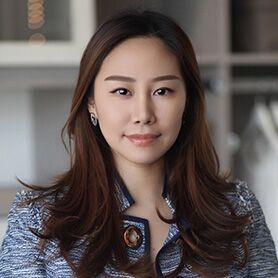 Kate Kim
Design Consultant
Born in South Korea, I studied in the States and traveled to many countries. My design specialty blends East and West with straightforward minimalism, balanced with graceful and classic style. Also, my background of studying Art and Design allows me to create unique spaces that can have the functionality of precisely measured and calculated closet systems, along with an aesthetically pleasing look. Working with California Closets, the industry leader who stays on top of the latest trends, with high-end and eco-friendly materials, gives me the confidence to design beautiful and functional solutions. I take time to understand your needs and tailor your dream space. Combining your taste and ideas, plus my unique aesthetic sense, will not only simplify your daily life but also maximize the value of your space whether it is your home, office or retail store.
Kate Kim's Portfolio
I'm committed to listening, collaborating, and working with you to design a custom solution that will optimize any space in your home. Here's a collection of some of my favourite projects to help you get inspired.
California Closets Reviews - Kate Kim
This was a great experience. I had closets built and a wall unit that incorporates a Murphy bed, tv space and shelves for my glass art work. Kate, my designer, made the entire design phase a breeze. Her vision was immediate and sharing it with me made it so easy. Hayden, my installer, was a true professional and his expertise as a carpenter is so obvious. After downsizing from my house to a condo I needed maximum organized closet space which I now have. And the wall unit has transformed my living space.

From start to finish, I was extremely happy with my experience. My designer, Kate, was extremely attentive to my needs and paid close attention to everything that we discussed. Hayden, the installer, arrived promptly and was very neat throughout the installation process. I would highly recommend both of them, not only because of their expertise and attention to detail but also because they were so personable and pleasant to work with. I am very happy with the results!

It was excellent. I love my closets and the wall bed. Kate, the designer, is a very professional person. She got my idea and made the magic. Love it!

Very professional and personable. Kate worked with me to come up with the perfect fit for my needs and budget! Beautiful designs and materials!