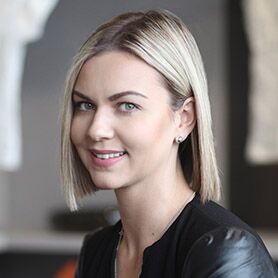 Kristen Ross
Design Consultant
Coming from a background working in the fashion industry in brand management and development, combining aesthetic and functionality have always been at the forefront of my mind when working with my clients. With an education in Marketing and Advertising, I have always been intrigued by the California Closets brand identity. Offering a superior product which appeals visually and serves purposefully is what ultimately led me to California Closets. Design and décor projects, which were once executed as passion projects, have now taken the limelight in my career. What I love about being a Design Consultant is the opportunity to transform an otherwise chaotic space and make it functional and beautiful & I appreciate the creative freedom I am given to help make my clients live more organized lives, one space at a time.
Kristen Ross's Portfolio
I'm committed to listening, collaborating, and working with you to design a custom solution that will optimize any space in your home. Here's a collection of some of my favourite projects to help you get inspired.
California Closets Reviews - Kristen Ross
From the beginning, I was impressed with the service offered (I spent my working life in the service industry); Kristen was extremely helpful with her comments and suggestions, as well as being available when I had questions. The installation technicians were the most professional and courteous (Ian and Chris on the first day, and Ian by himself for the next two days); rarely have I seen individuals working so much with the customer. The end results were not only what I expected, but more than I did.

Once again, we want to thank Kristen for her brilliant work in accommodating our request. She took any stress we had right out of the equation, along with her professionalism in representing California Closets.

It was a great experience. Kristen Ross was exceptional!!!! Kristen was extremely friendly, professional and highly knowledgeable!!! I had to cancel our initial meeting and advised her that it would be better for me in a few months. She followed up to the date, which was outstanding. She helped me stay within my budget!! She even offered to come by when the installer was here, as per my request.

Second time we have had Kristen Ross to our home to design a closet system for us. She is a wonderful designer and a very nice woman to do business with. She is a great asset to California Closets and will be my go-to person as we finish our home. Mark, our installer, was also great and we have requested him to come back and do the install in our front hall closet. Great people and a great experience all around.

Kristen was a pleasure to work with. Patient with my mind-changing and she had a good understanding of my wants, and more importantly...needs.