Learn more about our TouchLessService™.
Read More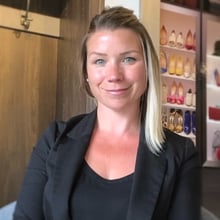 Krystal Lowe
Design Consultant
It was at a young age when I realized that I had a strong passion for organization, an eye for detail and a love for interior design. Keeping a structured home and having a place for everything in each room keeps my family organized and simplifies our lives giving us more quality time together. Being a designer for California Closets, allows me to create beautiful functional spaces that capture the individuality of each client. Together, we can collaborate to create a solution that is uniquely tailored to your space, your needs, and your budget. Organization is not about perfection its about efficiency, reducing stress and clutter, saving time, and improving your overall quality of life.
California Closets Reviews - Krystal Lowe
The company was always very quick in responding to questions and with information. The designer was very professional and talented in figuring out requirements and preferences. The installers were clean and very friendly. The unit looks amazing

This was the best investment I've made! I love my shelving systems that I had installed in my condo in a spare room and laundry room. It has increased my living space and now everything looks so organized. The installer, Michael, was very professional and did a beautiful job. He was very thorough and cleaned up everything before he left. The entire process was amazing! I highly recommend them.