Learn more about our TouchLessService™.
Read More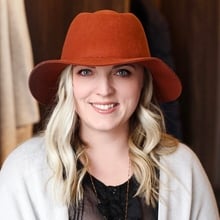 Lishelle Trembath
Executive Design Consultant
This job couldnt be a more perfect fit for me! There are so many aspects of my job that I love! From meeting with different clients every day to designing simple or complex, beautiful spaces.  I love being able to offer my clients ideas based upon what their needs and budgets reflect. I believe that a design can be functional but equally aesthetically pleasing and important. I love using our gorgeous Eco resins and Italian Glass to add color and beauty to a design. I also really love playing with depths, two-toning and lighting to create a space my clients love and are proud to show off! I know personally that having California Closets in my own home has created a comfortable and usable home for my family to thrive in! I am proud to work for this company and provide my clients with service that is second to none!
California Closets Reviews - Lishelle Trembath
I hired California Closet to build my bedroom closet (which was non-existent), and chose 2 colors for it: one color for the front of the closet - which matched my floor, and a lighter tone for the sides and inside. It turned out so great! It looks like it's always been there actually. All services were smooth and easy: I met LiShelle for an in-home consultation and was able to see the closet in 3D on her laptop. This helps me greatly as I had no idea what could be fitted in such small space . The price fell within my budget and about two weeks later, Courtney came to build it, and at the end of the day, I finally had a closet. I'll definitely hire California Closets again. I am a very happy customer here! :)

Loved our experience with California Closets. From start to finish we were witness to the amazing level of professionalism, courtesy and most importantly; design. The ideas put forward from our Designer LiShelle were all great, practical and cost efficient. California Closets isn't cheap but it's certainly worth every penny! Would not hesitate to use them again and recommend to anyone that asks.

This is my second experience with California Closets Calgary as the service and quality are excellent. I emailed LiShelle who is amazing and who I worked with previously. I needed closet doors in the master bedroom and a cabinet for my kitchen as space is tight. She was able to make suggestions and help choose the perfect cabinet. I am so happy with the finished product. It looks like it has always been there. It's always great when you can support local business. I definitely will go with California Closets for future projects