Learn more about our TouchLessService™.
Read More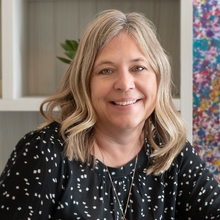 Pamela Stollery
Senior Design Consultant
Working as a Design Consultant over the past 15 years with California Closets, I have become an expert in space planning and reimaging areas in my client's homes. My love of design led me to complete the Residential Interiors Certificate program at the University of Alberta. The program strengthened my knowledge of design principles, which guides me in creating unique spaces for each individual client. As your California Closets Design Consultant, I will collaborate with you on solutions that help organize your home by creating spaces that will truly transform your day-to-day life. California Closets is an industry leader, and I feel privileged to be part of a great team that allows me to provide a customized solution for each of my clients. I am very proud to have won Design of the Year in 2020 for a Home Office Retreat which I feel shows the dedication and excellence of our entire team, from design to production to installation. I love solving the challenges each day brings and look forward to working with you!
Pamela Stollery's Portfolio
I'm committed to listening, collaborating, and working with you to design a custom solution that will optimize any space in your home. Here's a collection of some of my favourite projects to help you get inspired.
California Closets Reviews - Pamela Stollery
Pamela was efficient, knowledgeable, friendly, and certainly a pleasure to deal with. She made excellent suggestions for me and my new laundry room was ready and installed before I knew it. I am very satisfied, and my new laundry room is a welcome addition to my home.

California Closets provide its customers with outstanding customer service, and quality products. As previously satisfied customers, we did not hesitate to contact the company to design the closet in the guest bedroom. We contacted Pamela C., our design consultant, and were able to immediately book a consultation date. Pamela is personable, efficient, and professional. We were able to brain storm suggestions, after which Pam was able to render a 3-D computer generated design of the closet. Judd, the installer, was prompt, courteous, and efficient. He skillfully installed the unit and was very careful not to damage the areas which had just been renovated. Judd also made sure to clean the closet before he left. California Closets is committed to excellent customer service. All their employees are dedicated professionals with customer satisfaction in mind. We strongly recommend California Closets for your storage solutions. You will not be disappointed.

Working with California Closets was a great experience. Our designer, Pamela made the whole process easy, with her expertise, flexibility & knowledge. David our installer was amazing. He was punctual, friendly, dependable & hard working. He always left the work space clean & safe to walk through. Thank you California Closets!

We have had 2 California Closet built-in bookshelves in 2 different homes, and would recommend the team anytime. We worked with Pamela both times, and she was absolutely awesome for ideas, suggestions and making everything work out. We are very satisfied with the service, the product and overall experience. We definitely recommend!

Pamela Stollery was my design consultant for my main closet. She was so so amazing to work with. She is a pro with her knowledge and design. She created to PERFECT closet for me! Thank you Pamela!!!!