Learn more about our TouchLessService™.
Read More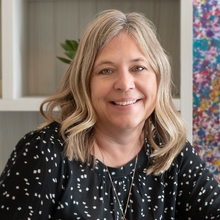 Pamela Stollery
Senior Design Consultant
Every day is a new challenge and I find it very rewarding to meet with clients in their homes to help organize and create spaces to truly enjoy. Finding a place for everything and solutions to everyday needs is my goal and I strive to make the California Closets experience seamless and unique for each of my clients. California Closets is truly an industry leader and I feel privileged to work as part of a great team to provide a personalized service for each of my clients. Having completed the Residential Interiors Certificate program at the U of A has given me a stronger knowledge of design theories, client assessment and balancing trends and aesthetic to better understand my client's needs and vision. California Closets has been a great fit for me. I love my job and look forward to hearing from you! Residential Interiors Certificate (RIC)
California Closets Reviews - Pamela Stollery
The sales representative was very efficient and helpful in designing our small walk-in closet. She was most obliging, attending our home for the in home consultation. It was a challenge as there was a sloped wall/ceiling due to the gambrel style of our home. The installer was very pleasant and even though we had to make a slight modification to the initial installation, made the changes without complaint and efficiently completed the project to our total satisfaction

California Closets provide its customers with outstanding customer service, and quality products. As previously satisfied customers, we did not hesitate to contact the company to design the closet in the guest bedroom. We contacted Pamela C., our design consultant, and were able to immediately book a consultation date. Pamela is personable, efficient, and professional. We were able to brain storm suggestions, after which Pam was able to render a 3-D computer generated design of the closet. Judd, the installer, was prompt, courteous, and efficient. He skillfully installed the unit and was very careful not to damage the areas which had just been renovated. Judd also made sure to clean the closet before he left. California Closets is committed to excellent customer service. All their employees are dedicated professionals with customer satisfaction in mind. We strongly recommend California Closets for your storage solutions. You will not be disappointed.