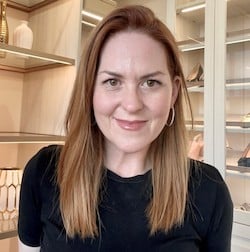 Sharona Stolero
Design Consultant
From a very young age, I've always had a passion for creating - from crafting, drawing/painting, writing, and now, designing. I love building spaces from the ground up, ensuring they're both beautiful and functional for the individual they're designed for, yet riddled with unique, personal touches. I combine my passion for design with my background in Marketing from Concordia's John Molson's School of Business to approach each job with organization, structure, and attention to detail. I'm passionate about every project and enthusiastic about trying new ideas that my clients suggest. Being a former business owner has emphasized the importance of strong communication and cultivating long-lasting relationships with clients. My goal is to listen to your needs and translate them into spaces that work perfectly in both form and function. My well-trained eye for quality, strong attention to detail, and thorough knowledge of CAD software enables me to transform spatial ideas into beautiful 3D perspectives - timeless style and designs that remain fresh, year after year. I'm excited to begin our next project together!
Sharona Stolero's Portfolio
I'm committed to listening, collaborating, and working with you to design a custom solution that will optimize any space in your home. Here's a collection of some of my favorite projects to help you get inspired.
California Closets Reviews - Sharona Stolero
I waited a long time to have customized closets in my small den and probably would have waited longer if I had not met Sharona Stolero. She spent a lot of time with me during our initial visit. I've had 3 in- person interactions. She was very knowledgeable and extremely attentive to my needs and budget ,working on the laptop for me to see in real time what my design might look like plus a variety of options and prices. I think she made all the difference. I can't say enough about Sharona. The California Closets showroom was perfect to see all different materials. In addition, Ali who did the installation was extremely detail-oriented and the installation was done to perfection. I hope to contact Sharona for future projects.

I worked with California Closet for the for the first time and I have to say I'm very impressed. I had the wonderful opportunity to meet up with their design consultant Sharona Stolero. She was absolutely amazing to work with! From the first day she came in with an open mind and the flexibility to help achieve exactly what I was looking for. Throughout the process she has been most helpful, understanding and responsive. She's an expert at her craft. I'm so glad I found this company and had Sharona by my side throughout the process. If you ever work with this great team make sure to call her up!

Sharona was our Design Consultant. We like how she was very clear and prompt in responding to our ideal design request. She was quick to answer to any questions we may have. Every step was transparent, she showed us the 3D closet plan and pricing and we could easily understand and see if it matches with our preference. On the day of installation, Wesley was our installation worker. He arrived on time to our loading dock the day of construction. He showed a lot of care and respect to our place - placing cloths and blankets on on the working areas and walls for protection. He is very organized in placing his tools, so we would still have room to move around our unit. He left the place clean and spotless, vacuuming up any dusts that may have appeared during sawing of materials and construction. Overall, it was a very positive experience. Now we can use our closet space more effectively. Definitely recommend!

Sharona made my experience with California Closets. Knowing closets can be a sizeable investment, Sharona worked within my budget and promised the world when it came to the quality - and did not disappoint. The client service from the consultation to installation and followup was all superb. I would not hesitate to refer or use Sharona and California Closets again. Thank you again, Sharona!

I ordered several closets for the new townhouse and worked with Sharona. She was everything I wish for and more. Designed closets very fast and offered best solutions for the space. Sharona is personable and professional, we had great experience from the first meeting through the completion of the project. I love the results, looking forward to organizing.