Discover the new Ideas of Order Podcast with Jeremiah Brent!
Listen Now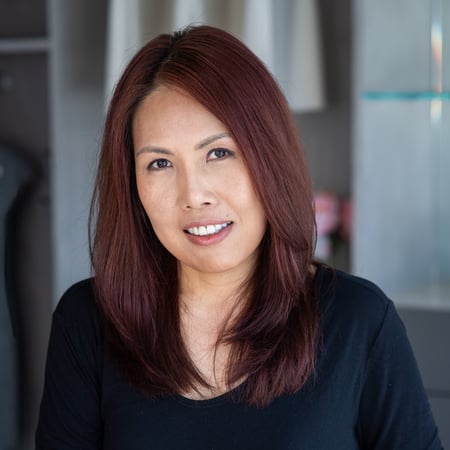 Soo Hanyoung
Design Consultant
House and home are my passion. I've lived in East Vancouver for over 25 years and built my current home where I enjoy my busy mom life with a son who loves sports and activities (especially hockey and baseball). I graduated from Emily Carr University with a degree in media arts and earned a diploma in display and design. After graduating from Emily Carr, I worked as an exhibit tradeshow booth designer and a set art director for TV commercials in Korea. I first became interested in California Closets because of its ability to find creative, functional, and smart space solutions. Since I spend so much time on the road visiting clients, one of my favourite parts of the job is being able to see the many different styles of homes in the Lower Mainland. As a design consultant, I love the process of collaborating with clients to create the space they've envisioned, custom-made to suit their unique needs.
California Closets Reviews - Soo Hanyoung
I'm super happy with my three professionally designed and custom installed closets. It's been five years in the making, and the systems have had a transformative impact in my home to keep my belongings, clothing, and shoes more organized and easier to access. William is a meticulous, skillful, professional, and cheerful installer. Soo Hanyoung is a customer-focused, creative, highly knowledgeable and talented designer who offers a lot of value and well versed in California Closets' product functionality and finishes. I'm very happy with my experience with the team at California Closets Vancouver.

I love my new closet! The quality of the drawers and fittings is terrific, and Soo did a wonderful job of laying out the design and giving me different options to choose from. All my stuff fits nicely into the space and it is SO organized now. Michael also did a fabulous job of installing it. Thanks.

The experience from start to finish was wonderful. Huge thanks to Soo for her professionalism, close follow up, and making sure all of our requests were met while keeping us within our budget!