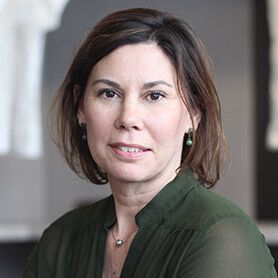 Stefany Bradshaw
Design Consultant
Stefany has a bachelor of applied arts in interior design from Ryerson University and over 15 years experience in residential design. Her design philosophy entails good listening skills and making sure that form meets function. After living overseas in Portugal for an extended period, she is excited to be back in Toronto and to be working for a company that ultimately cares about the same end results as Stefany: a happy client with an improved lifestyle.
Stefany Bradshaw's Portfolio
I'm committed to listening, collaborating, and working with you to design a custom solution that will optimize any space in your home. Here's a collection of some of my favourite projects to help you get inspired.
California Closets Reviews - Stefany Bradshaw
Stefany, our designer, was excellent. She was patient with us, provided initial drawings for us to review and think about and change and redo and with her ultimate design and all her suggestions, we love our closets.

The technicians who did the work were very respectful of us and our home. The closets look great! Stefany, who helped us design the closets, was superb and the reason we will use California Closets again.

I won't deny that it was a harder process than I imagined. At first glance, everything seems possible but then reality hits and your space isn't the blank slate you thought it was. A few setbacks, some frustration and you start to wonder what you got yourself into. But the end result? WOW. I love my new space. I find myself just admiring it. It's modernized and enlivened a space that was looking rather tired a short while ago. Thank you to Stefany our design consultant who patiently worked with us.

I enjoyed the process very much. The designer (Stefany Bradshaw) was very professional and incredibly patient. She listened to my needs and came up with a design that was very functional and looked great.

Working with Stefany was great. Her experience showed with all suggestions she made. She also didn't bat an eye at all my stuff and was very accommodating when an unexpected event occurred. Mark, the installer, was also great. The install went smoothly even with my dog checking out what he was doing.

Stefany visited us today and was a delight to work with. Her naturally friendly, open, and genuine interest in our needs transformed the designer/client relationship into a most welcome experience. She was confident, knowledgeable, intelligent, perceptive, and most helpful in finding solutions to our storage issues. She responded immediately to our concerns and appreciated our modernist design ethos.

Very personalized service. Stefany was highly responsive, professional and knowledgeable. The result is really terrific and things have all fit perfectly.

Stefany's customer service, expertise, design work was above and beyond my expectations. I have worked with CC in NYC and the Hamptons, and my Toronto experience was superior to both. Thank you!

Stefany Bradshaw has been such a pleasure to work with. She's is extremely knowledgeable, responsive, helpful and fun to work with. Thanks for the beautiful designs!

Stefany is so detailed, friendly and is knowledgeable on what the customer's requirements. The process of selection and ordering was so smooth, look forward to my installation.

Stefany Bradshaw is fantastic

Stefany Bradshaw is great and always makes the process so easy. She has lots of great suggestions.