Discover the new Ideas of Order Podcast with Jeremiah Brent!
Listen Now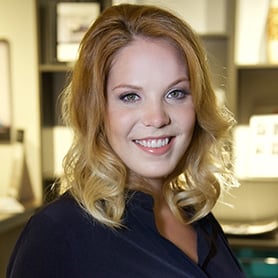 Steph Pollard
Design Consultant
The buzz words décor, design, and style evoke excitement within me. Coupled with a business and design education background as well as my passion for organization and people, California Closets provides the perfect outlet to pursue my passion of design while meeting and exceeding client expectations to create a space best suited to their needs Upon meeting a client, my goal is to design a space that complements their personality and style as well as providing an inviting environment for them to efficiently accomplish work and play. My ability to listen to clients' needs and establish a communicative, ongoing relationship throughout the design process in conjunction with my strong attention to detail provides a stable foundation to ensure you will love the outcome of your California Closets design. Your problem is my challenge to solve! I look forward to meeting you to a create solution that works best for you.
Steph Pollard's Portfolio
Here's a collection of photos showing Steph's favourite projects to help you get inspired.
California Closets Reviews - Steph Pollard
I can't say enough about California Closets. The initial in-home consult was very friendly and thorough. We didn't even know what we wanted, but our designer Steph made use of every inch of the space and came up with a 3D rendering that we were blown away by. Install was super smooth. The installers arrived early, were extremely friendly and brought Steph's design to life. We couldn't be happier with the result. Can't wait to do our next closet!

Working with Steph was an amazing experience! She was thorough, friendly, talented, a great communicator and excellent with follow-up. The installers, all of them, were very efficient, courteous, precise, and very clean and organized. Wonderful experience overall.

Steph was very understanding of our needs and designed all four items perfectly. The two gentlemen that installed our items went above being clean and tidy plus the installation work is flawless. We will tell and show all our friends about California Closets' incredible work.

We are extremely happy with the experience and the end product. Steph helped us plan our storage needs and offered good advice and options to consider. The computer program used to the measurements in 2D and 3D made it really easy to visualize what the final outcome would look like. The installers were very professional.