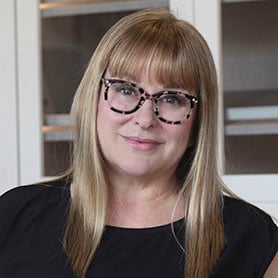 Susan Hornsby
Design Consultant
I've been involved in designing since I was a little girl. I frustrated my Mom to no end, changing my room around monthly and when I was old enough, repainting and wallpapering my room every 6 mos. All by myself! Fast forward to 13 yrs ago when I began my own designing/decorating/staging business. After being a Visual Merchandiser for LaZBoy and Crate & Barrel, it was time to go out on my own. I was doing what I loved and it came naturally to me. I enjoyed being challenged with each new project and personality. It was a dream job. But it was isolating, working for myself, from home. I longed to be with other people and part of a team. Enter, California Closets. I can truly say this is the best job I've ever had, with a wonderful group of people and in a company that appreciates and supports its employees as much as its clients. I'm enthused, energized and loving being part of this team. That little girl is doing what she loves.
Susan Hornsby's Portfolio
I'm committed to listening, collaborating, and working with you to design a custom solution that will optimize any space in your home. Here's a collection of some of my favourite projects to help you get inspired.