Save up to 15% during our Fall Multi-Space Event!
Learn More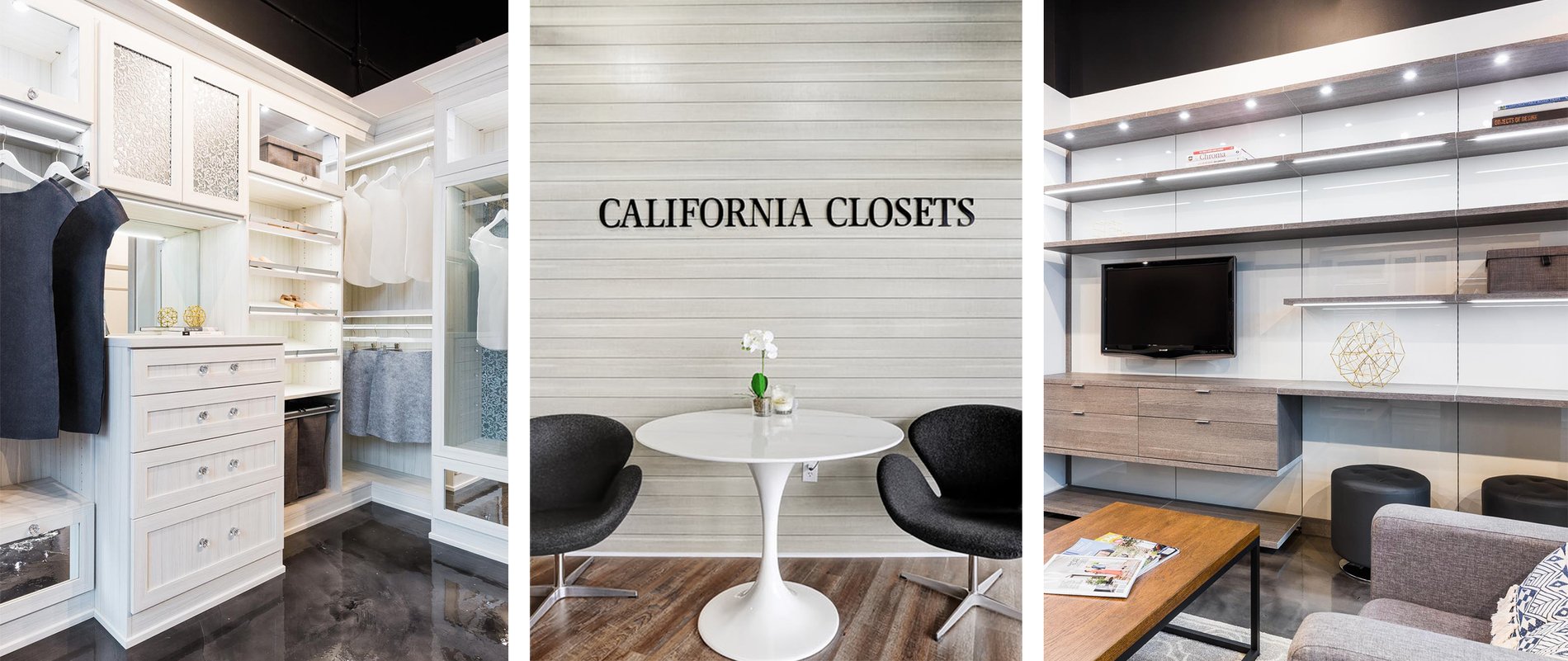 California Closets Calgary
Also serving Okotoks and Airdrie, as well as Cochrane and Canmore to the west, California Closets Calgary works to understand your exact needs, style, and budget to create custom closets and home storage systems that are both beautiful and functional.
From walk in closets and wall beds to media centres, kitchen pantries, and garage storage, our professional closet designers are experts in the art of home organization.
Once you're ready to explore custom design ideas for your space, schedule a complimentary in-home or virtual consultation. Together, we'll collaborate with you on every step of the process and on your schedule.
California Closets is distinguished by a legacy of innovation, organizational expertise, quality craftsmanship, and design authority. Our teams of professional design consultants and installers are dedicated to providing an exceptional experience throughout the entire process of creating and installing custom closets and organizational systems for the whole home. Find us in Calgary and surrounding locations near you.
Our experts can design the right solution for you.
Follow California Closets Calgary on your favourite social media and get inspired every day.
GARAGE STORAGE

GARAGE STORAGE
California Closets Reviews - Calgary
Excellent all around. From the design to the install to follow-up. Prompt, professional, friendly. We are very pleased with our master walk-in closet and would not hesitate to recommend California Closets.

Fabulous, efficient product and service; installation looks great too! Highly recommend for people who want to get organized!

Our experience at California Closets was fantastic from our first visit to the showroom to the finish touches on the organizers. Ali was creative which allowed us to meet/exceed all of our requirements.

Pam was very friendly and helpful. I especially loved seeing the 3D rendering of what our closet would look like as I am a visual person.

Our representative, Pamela, provided all the required information, explained our options and took the time to answer our questions. We felt that she wanted to ensure that we had everything we needed to make a good decision.

The entire process was very easy. Our sales rep LiShelle was very knowledgeable and really listened to what we wanted. The drawings she was able to provide us while meeting us made the process so smooth in terms of making adjustments. The installers were great and very skilled. The communication throughout was pleasant and all our concerns were addressed very promptly.

LiShelle Trembath was great to work with. She listened to my needs and came up with ideas I did not think of. Also, her attention to detail in the design was amazing. My closet organizer in my bedroom and my brand new closet downstairs look like they were always a part of my home. Tyler installed both projects and he was very professional. He stuck to the schedule, was on time, cleaned up after the job was done and even wiped down both units. I am extremely happy with California Closets.

Ali was very helpful and showed exemplary tact and business demeanor in accomplishing what we wanted to do.

I had a stellar experience with California Closets right from the request for a consultation through to the follow up call after installation. They were quick to respond, professional, friendly, efficient, they paid close attention to detail, listened to needs and concerns, and have quality products.

Great service. LiShelle was extremely responsive, very knowledgeable, and her designs worked well. I am interested in doing more room makeovers!

From initial discussions with LiShelle, to design, to installation by Conrad, every part of the experience was great. We adore our new closet.

LiShelle arrived to plan my closet for me. I loved that she did an actual computer picture of the end result because I can never see in my mind how it will look once completed! Jose arrived at the designated time and worked quietly and cleaned the site afterwards. I'm thrilled with my beautiful new closet! It has added great value to my suite which is another bonus. Thank you to LiShelle and Jose for their kindness and for a job very well done. I can't stop looking at this beautiful unit!!

It was great!! James the installer was awesome and very polite. Very pleased with everything. LiShelle was awesome as well. Thanks for the great service.

Had a fabulous experience from our excellent designer to the installers and admin staff - we are thrilled with our new closet configuration!

We had a great experience with LiShelle! We absolutely love our new closet. It is so functional for our small walk-in closet! We will be going back to have a second reach-in closet done!

California Closets carried out the concept and detailed design and installation of a purpose-built library, media centre and war-games room in three disparate areas of our walk-out basement, and through the sympathetic use of homogenous themes in materials and style successfully brought these areas together. We were very impressed with the way they went about things and would recommend them to anyone contemplating custom-built closets.

From meeting with our sales person to the install it has been a great experience. The install is beautiful and the gentleman that did it was incredible polite professional and very good at his job. Our Design Consultant was more than what was expected in her knowledge and professional way in handling the sale.

Totally professional and painless right from the start. Our sales person and designer, Pamela knew the product inside and out and had great ideas for satisfying our needs. The product which was a home office was delivered exactly on time and the installers were polite and friendly. just as important there was zero mess by the time they left.

The whole experience was wonderful. Our Design Consultant was professional, helpful and punctual. Installation was on time and went smoothly with no mistakes or retrofits. And the product is suburb. My mom is thrilled with her new closets!

From start to finish the project went without a hitch. The in-house consultation was fast and professional, and the tools they brought allowed us to see exactly what our closet would look like in mere minutes. We were able to collaborate with our designer and create exactly what we wanted from both a feature and a budget perspective. I highly recommend you invite them to work on your next closet project.

Everything from the first contact to measure and quote to the install and follow up has been extremely pleasant and well organized! There was not one tiny thing to complain about at all. 100% perfect!

This was the third project I have hired California closets to complete in the past few years. The other ones included a pantry renovation as well as a very custom bank of built in cupboards and dog beds for my home office. We were very pleased with all of the projects and the professionalism of the Company and would not hesitate to consult them again on future projects.

Excellent team, great process, and a fantastic product. They made it very easy for us. We met with a designer at our house and we were able to design several closets very fast. When the crew arrived, they were professional and fast with great attention to detail. There was always consistent follow up to ensure that we received and were happy with our purchase and the install team. Highly recommended.

The product is top of the line and the process is seamless and efficient. The designer was able to do incredible design layouts right on the spot in real time. I had all of my closet layouts before she finished her visit.

Another successful project with LiShelle and the team at California Closets! Although this project was smaller than previous jobs, the professionalism and attention to detail was just as high. The product was delivered as requested and the site left in excellent condition. Thank you for your consistent service!
Visit a Showroom in Calgary
Located on 9th Avenue in the Historic Inglewood area of Calgary, with access off of Deerfoot Trail, the California Closets Calgary Showroom is easily accessible from any part of Greater Calgary. This showroom is nestled in a popular area along the Bow River that features a number of well-known boutiques and restaurants. Before or after a visit to the showroom, customers often walk along 9th Avenue and browse the quaint shops nearby.
BUY MORE, SAVE MORE.

For a limited time, save up to 15% when you reimagine multiple spaces in your home with our custom-designed storage solutions. Book your complimentary consultation today.

California Closets Financing Options

California Closets Calgary offers quick and easy financing to help make getting organized easier.
See What's Happening in Calgary
Celebrate Wine Fridays with California Closets

Visit our Calgary Design Studio and relax with a glass of wine while our Design Consultants design your dream space.

California Closets Cares

California Closets Calgary participates in a number of area charities.

In the News

California Closets is frequently featured in well-known magazines and newspapers, and on popular home design websites and television shows.
Favourite Local Projects Near Calgary
We'll collaborate with you to make every room in your home work better for you. See some of our favourite projects right here in Calgary.
Walk In Closet Systems in Calgary, Alberta | California Closets Canada

A walk in closet system in Calgary, Alberta shown with dark wood grain finish cabinets, drawers and shelves created by California Closets Canada.

Garage Storage and Cabinets in Calgary | California Closets Canada

Customize your garage storage cabinets, shelving and workbench using a light finish shown in this design created by California Closets Canada.

Murphy Bed in a Home Office in Calgary, Alberta | Californnia Closets Canada

A Murphy bed in Calgary, Alberta is added to a home office with a custom desk and shelving, created by California Closets Canada.
Meet Our Designers
The best in Calgary
From an initial conversation through design and installation, our expert design consultants will guide you through the California Closets process and collaborate with you every step of the way. They are committed to serving you and believe that exceptional design can help us all live more organized and happy lives.
Career Opportunities
Join us in our mission to design better lives through custom storage solutions and organization. At California Closets, we pride ourselves on being an outstanding employer that offers excellent benefits, competitive salaries, and professional development.
To The Trade
We are proud to collaborate with architects, builders, and interior designers to create custom closets and home organization systems. In our more than 40 years as custom storage experts, we've worked on thousands of projects with some of the most talented home professionals as a trusted partner. Let's work together on your next project. Learn more about our trade program today.