Discover our line of innovative, custom-designed garage storage systems!
Learn more.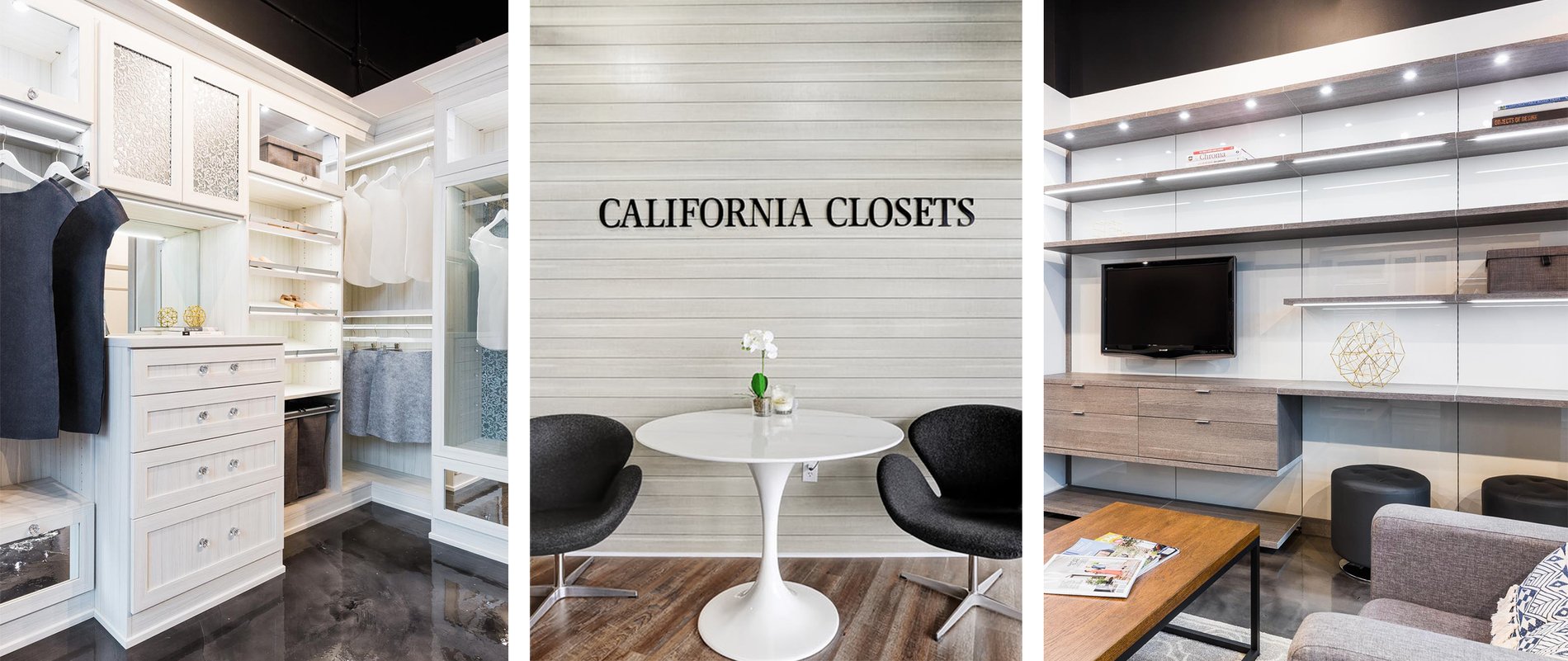 California Closets Edmonton
Serving Spruce Grove and St. Albert to Leduc in the south, California Closets Edmonton works to understand your exact needs, style, and budget to create custom closets and home storage systems that are both beautiful and functional.
From walk in closets and wall beds to home offices, kitchen pantries, and garage storage, our professional closet designers are experts in the art of home organization.
Once you're ready to explore custom design ideas for your space, schedule a complimentary in-home or virtual consultation. Together, we'll collaborate with you on every step of the process and on your schedule.
California Closets is distinguished by a legacy of innovation, organizational expertise, quality craftsmanship, and design authority. Our teams of professional design consultants and installers are dedicated to providing an exceptional experience throughout the entire process of creating and installing custom closets and organizational systems for the whole home. Find us in Edmonton and surrounding locations near you.
Our experts can design the right solution for you.
Follow California Closets Edmonton on your favourite social media and get inspired every day.
GARAGE STORAGE

GARAGE STORAGE
California Closets Reviews - Edmonton
Very satisfied with the product and the suggestions given to me by a very thorough representative.

The process was very easy with lots of selection. My husband and I were very impressed with the computer application which digitally set up our closet before we ordered. It made us more confident in our purchase. We also visited the store location and all the options were very nicely laid out.

Everything was professionally handled from first contact until install completion — on time and as promised. Excellent help from Heather whose advice and help provided us with everything we had hoped for.

Awesome experience! Not sure why I waited so long to contact California Closets? I was given several options to fix my problem space. Hardest part of the process was colour selection. Installation was faster than expected. I love it!

The quality of the product as well as the installation was second to none! The people whom we dealt with were very professional and would recommend them to anyone.

Alannah was very helpful and accommodating. It was a pleasure to have California Closets in my home. They did a wonderful job and it exceeded my expectations with quality and price. I highly would recommend them to anyone who is interested in having them do work.

I have wanted a closet to increase storage space and also wanted it designed with some bling! BRAVO!!!

I was extremely happy with my experience, as well as my dealings with Alannah Farnham. She was absolutely helpful and in-tune with what my needs and wants were for my closet. I would happily recommend her and your store to my friends.

I was surprised that the closets looked so good. The consultant was knowledgeable and answered all my questions. She was friendly and pleasant. Always returned my calls and emails.

I could not be any happier with my experience with California Closets. Our designer was amazing when she did the drawing for the closet and then installers did such a professional job. Your employees are great and they are second to none.

Working with California Closets is so easy! No stress! Everything is done exactly as planned. Our designer is so skilled: she took measurements of three closets and within a short time had blueprints on her computer! The installer was also amazing! We love our closets! Thanks!

I have received numerous compliments on the cabinets. I have already recommended California Closets to many of my friends. They had no idea that they did this type of work as with most they thought it was just closets they dealt with. We will definitely use them again.

Right from the onset when I entered the showroom the customer service exceeded my expectations. Everyone from the designer to the installer has been very professional. I can't believe I have a closet that looks the way it does! It's awesome!

Very impressed and for myself that's hard to do. No complaints whatsoever. I have already recommended California Closets to several people and will keep doing so. Thanking every one involved in the process. Job well done.

My experience with California Closets was excellent! Reece was very professional and planned a perfect space for my master bedroom closet. The installer was efficient and the completed project looks fantastic!

This company strives to ensure the product is as promised and that it's perfect! Satisfaction guaranteed. I would definitely use California Closets again.

My husband's and my clothes were all over the house until we got our California Closets installed. Boom everything fits and is neat and organized. Love it. Worth every penny. Company was professional and quick.

Our Design Consultant was awesome. We had a vision and she was able to put it on paper and make it come to life. We converted a spare bedroom into an an office, butler's pantry, and closet, and it looks fantastic and is so useful. Thank you California Closets!

Our Design Consultant was very knowledgeable and great at helping me to design a closet that would work well for our situation. Our installer was on time, neat, and tidy, and left the work space in excellent condition. We are very pleased with the final product and would recommend this product without hesitation to others.

I really enjoyed the knowledge the representatives had and how they shared suggestions freely. In the end I was very happy; I love my space! The installation expert was exceptional too; very professional!
Visit a Showroom in Edmonton
Located just off of the well-traveled 75 Street Northwest, the California Closets Edmonton Showroom is part of Pinnacle Business Park. With a number of major highways nearby, the showroom is easy to access from any area of Greater Edmonton. A variety of popular home design and improvement stores are close to the showroom, making a visit to California Closets an easy one-stop shop for customers working on multiple areas of their homes.
Premium Garage Storage in Calgary

With premium accessories and sleek, functional storage, California Closets Calgary now offers exclusive garage solutions that include everything you need to reinvent your space.

California Closets Financing Options

California Closets Edmonton offers quick and easy financing to help make getting organized easier.
See What's Happening in Edmonton
Celebrate Wine Fridays with California Closets

Visit our Edmonton Design Studio and relax with a glass of wine while our Design Consultants design your dream space.

California Closets Cares

California Closets Edmonton participates in a number of area charities.

In the News

California Closets is frequently featured in well-known magazines and newspapers, and on popular home design websites and television shows.
Favourite Local Projects Near Edmonton
We'll collaborate with you to make every room in your home work better for you. See some of our favourite projects right here in Edmonton.
Walk In Closet in Dark Wood Grain Finish in Edmonton, Alberta | California Closets Canada

A customized walk in closet in Edmonton, Alberta has built in shelving, a shoe rack and drawers in a dark wood grain finish created by California Closets Canada.

Garage Storage and Custom Cabinets in Edmonton | California Closets Canada

Customize your garage storage with shelving, cabinets, workbench and wall storage designed by California Closets Canada.

Home Office and Murphy Bed in Edmonton, Alberta | Californnia Closets Canada

An Edmonton, Alberta home office gets a redesign with a murphy bed, custom desk and extra storge, created by California Closets Canada.
Meet Our Designers
The best in Edmonton
From an initial conversation through design and installation, our expert design consultants will guide you through the California Closets process and collaborate with you every step of the way. They are committed to serving you and believe that exceptional design can help us all live more organized and happy lives.
Career Opportunities
Join us in our mission to design better lives through custom storage solutions and organization. At California Closets, we pride ourselves on being an outstanding employer that offers excellent benefits, competitive salaries, and professional development.
To The Trade
We are proud to collaborate with architects, builders, and interior designers to create custom closets and home organization systems. In our more than 40 years as custom storage experts, we've worked on thousands of projects with some of the most talented home professionals as a trusted partner. Let's work together on your next project. Learn more about our trade program today.